Day 1: Arrival in Jakarta
Upon arrival at Jakarta airport, you will be greeted by a representative and transferred to your accommodation near the airport. Upon arrival at the accommodation, you will check-in and have the rest of the day at leisure to rest, relax and acclimate to your new time zone in this vast cultural melting pot that reflects the many faces of modern Indonesia. Overnight at FM7 Hotel.

Day 2: Jakarta - Borneo
This morning you will be transferred to Jakarta Airport and take a flight to Pangkalan Bun via Semarang at 09:25. Upon arrival in Pangkalan Bun, you will meet your guide and driver who will take you to the Kumai Riverport to board a traditional klotok—a flat-bottomed riverboat. During your time here, you will visit the three feeding stations within Tanjung Puting National Park. Here, you will more than likely encounter several of the resident ex-captive orangutans that roam within the grounds of the research camp. When your guide calls out the whooping sound to announce the feeding, you will begin to hear the rustle of leaves, and then experience the heart-pounding moment when these great apes swing toward you. In the afternoon, head to the Tanjung Harapan and hike to the feeding platform for your first chance to view these beautiful creatures in the wild. Overnight at Super-Deluxe Klotok – AC cabin.

Day 3: Tanjung Puting National Park
Waking up early is 100% worth it as you will be able to observe the wildlife up in the trees and you can enjoy endemic birds and possibly some wild orangutans before your breakfast. Travel upstream to the Pesalat Reforestation Center. This forest regeneration area offers a nice easy walk through peat swamp and dry land, nice birding, a medicinal plant area and it allows you to select saplings such as Ironwood and plant them. Clouded Leopard and Sun bears have occasionally been spotted in this area. Lunch is served on board your boat. After lunch, you will head to Camp Leakey, which is a landmark research and rehabilitation center. Observe Orangutans in the wild and discover their vulnerability. Overnight at Super-Deluxe Klotok – AC cabin.

Day 4: Tanjung Puting National Park - Java
After breakfast, you will return to Kumai Harbor by boat. From Kumai, you'll be met by your driver and transferred back to Pangkalan Bun, arriving in time for your flight to Semarang on Java. Upon arrival in Semarang, you will meet the driver and then transfer to your hotel in Magelang. Enjoy a stop along the way at the ancient Hindu temple of Gedung Songo, which predates the more famous temple sights of Borobudur and Prambanan. After check-in at Amata Borobudur, you will enjoy the rest of the afternoon at your leisure.

Day 5: Magelang - Yogyakarta
Early morning, you will head out to Borobudur temple, where you will arrive before sunrise so you can watch the sun rising from behind Mount Merapi. Afterward, we continue to Candirejo Village. Candirejo is a typical Javanese village, not far from the Borobudur, where the residents are supported by a local NGO that started a sustainable tourism project, aimed at introducing typical Javanese village life to visitors. Riding in a traditional horse and cart, you will explore this peaceful village and the surrounding countryside. Next, you will visit a local house, where the community will give a performance of traditional gamelan music, played with traditional Javanese percussion instruments, and try it for yourself. During the tour, you will also enjoy a delicious Javanese meal at a community-funded pavilion house, known locally as a pendopo pumah. In the afternoon you will drive to Yogyakarta. Yogyakarta is situated almost exactly halfway along the length of Java, in an area considered to be the heartland of the Javanese. It is home to some of the island's oldest traditions and blessed with rich, fertile soil – a result of volcanic ash. In addition to its rich history. Rest and overnight at Jogja Village Inn.

Day 6: Yogyakarta
After breakfast, you will head out to explore Yogyakarta which is full of creative people. During this tour, you will first experience the city atmosphere from its heart: Malioboro Street before continuing to the famous Keraton Ngayogyakarta (Yogyakarta Palace), which is the home of the 10th Sultan of Yogyakarta and his family. Afterward, you will visit Taman Sari (the Waterplace) to see where the former Sultans and their concubines spent their leisure time. After Taman Sari, a visit is paid to Beringharjo Market to see and maybe buy the traditional batik clothes and have lunch at a local restaurant. After lunch, you will visit the Prambanan Temple compounds, located approximately 1 hour from the city center of Yogyakarta. Prambanan Temple itself is a complex consisting of 240 temples & ruins. In the afternoon return to Jogja Village Inn for overnight.
You can book an additional food tour, which is an absolute must-do for foodies!

Day 7: Yogyakarta - Ubud
After breakfast, you will be transferred to the airport for a flight to Bali. Upon arrival at Denpasar airport, you will be greeted by a representative and transferred to your accommodation in Ubud, approximately a 90 min drive. Ubud is Bali's cultural and artistic heart, today Ubud is a small town with an emphasis on wellness, small local shops, and great cuisine. Upon arrival at the accommodation, you can check-in and you will have some free time to discover Ubud on your own before returning to Beji Ubud Resort for overnight.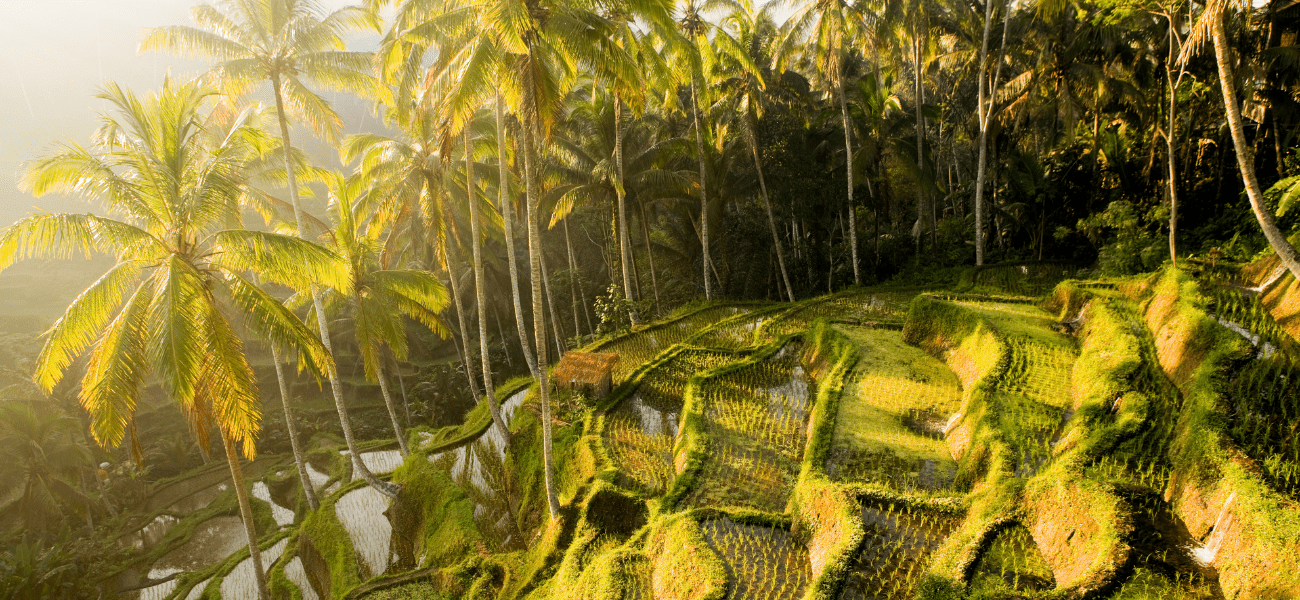 Day 8: Ubud
After an early wake-up call, we will pick you from your hotel and transfer you to a local restaurant at Kintamani where you will enjoy breakfast. While you enjoy your breakfast, you will enjoy a magnificent view of the biggest and most active volcano in Bali called Mt. Batur and the amazing Lake Batur. After breakfast, you will have a short safety briefing and you will start your first activity of the day, volcano cycling. You will descend down to the mountain village and get to explore some of these villages and you will have an opportunity to visit a temple as well. In the afternoon you will finish your trip at Tampak Siring, and you will enjoy a delicious local lunch. Overnight at Beji Ubud Resort.

Day 9: Ubud
After breakfast, you will go for a memorable trip to the soul of the island. You will head out to meet local artists at their homes and workshops who open the door to a world that is normally hidden from the sight of travellers. You can buy an art piece in a showroom and meet the masters themselves. If you are always looking for ways to meet interesting local people, we will give you the opportunity of meeting some local maestros in a real Balinese home. You will enjoy lunch at a local home. Overnight at Beji Ubud Resort.

Day 10: Ubud - Sanur
After breakfast, we continue the trip to Sanur. We will make nice stops on the way including visiting the impressive temple of Taman Ayun. Taman Ayun is one of the most beautiful temples in South Bali. Take a short walk through the complex and admire the impressive surroundings. We then continue to see the famous see temple called Tanah Lot. Tanah Lot is a rock formation just off Bali's west coast that is home to the ancient Hindu pilgrimage temple Pura Tanah Lot, a popular cultural icon for photography with a steady stream of visitors. In the afternoon you will arrive at your hotel in Sanur. Sanur is a seaside town on the southeast coast of Bali. Its long stretch of beach offers shallow, crystal-clear waters where colorful fishing boats line the shore. Overnight at Segara Village.

Day 11: Sanur
Free day at leisure in Sanur. Overnight at Segara Village.

Day 12: Sanur - Denpasar International Airport
After breakfast, you will be taken to the airport for your departure flight.